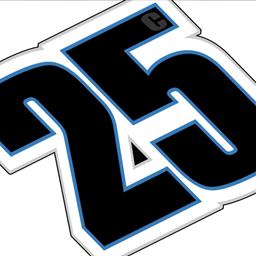 ---
Thompson Opens 2023 with LVMS Victory
Cody Thompson opened his 2023 campaign with a B-Mod victory on Thursday night at the Dirt Track at Las Vegas (Nev.).
Cody started his night with a seventh-to-third charge in his heat race, which locked him into the 12th-starting spot for the night's 18-lap feature.
He wasted little time in the main event, charging to the lead on the seventh circuit. Once out front he cruised to the victory, which came 3.280 seconds over Aaron Blacklance with Brady Bjella, Dylan Thornton, and Dakota Girard rounding out the Top-5 finishers.
On Friday night he recorded an eighth-place finish in the 20-lap B-Mod feature.
Action continued on Saturday night with Cody earning the pole position for the feature. He ran in the Top 5 until the 17th circuit, when his night came to an early end. He was credited with a disappointing 19th-place finish.
Back to News